Our Aim – Keep Staffordshire Safe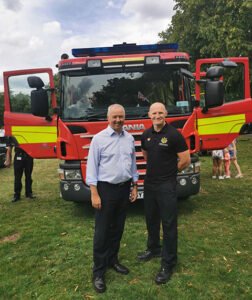 The work that Fire & Rescue Services do has changed significantly in recent decades. Staffordshire Fire & Rescue Service provides a broad range of services to keep people safe at home, at work and in public places. The number and types of incidents attended have also changed. That demand is more complex than before; climate change has led to more extreme weather events, leading to flooding and large-scale fires in open areas that have required protracted, resource-intensive responses.
Even though the risk of fire and other incidents remains low, the prevention work that Staffordshire Fire & Rescue Service does is absolutely vital to make sure this remains the case.
The prevention effort is becoming more targeted towards those who are mostat risk, whether due to their age, infirmity, physical disability, mental health or drug and alcohol abuse.
The problems people face can be complex and multi-faceted, so it is important for the Service to work in close partnership with other agencies including the NHS and local councils to make sure people get the support they need to keep them safe.
During the Covid-19 pandemic, the Service stepped up as part of the collective effort by distributing food packages and helping vulnerable people, delivering PPE, and helping with testing and vaccination sites.
A lot of this work is built on the professionalism and enthusiasm of Fire & Rescue staff. However, in terms of formal roles, terms and conditions, the Fire & Rescue sector has remained largely unchanged for decades and reforming it to be able to meet new challenges is in the public interest. Given more flexibility to address local need, there is a real opportunity for more imaginative and radical options for protecting people and places.
In 2021, after a widespread consultation I published my Fire & Rescue Plan which provides the strategic direction for how Staffordshire Fire & Rescue should be delivered over coming years.
The plan focuses on four key priority areas, which form an important part of how I hold the Chief Fire Officer to account on behalf of the public.
Fire and Rescue Overview Files